The China Shanghai International Children's Book Fair (CCBF) is held under the guidance of the Press and Publication Administration, organised by the Shanghai Press & Publication Administration, China Education Publishing & Media Group Ltd., and China Universal Press & Publication Co., Ltd., co-organised by Ronbo BolognaFiere Shanghai Ltd. Launched in 2013 and after six successful editions, CCBF has quickly become an important event for the global publishing industry. It is the only fair fully dedicated to books and specific contents for children aged from 0 to 16 in Asia Pacific.
During its six years of development, CCBF has centred on the theme of "embracing the future." The fair provides a leading copyright exchange hub for children's books. It plays an important role in promoting Chinese children's literature internationally and encourages reading culture among young children. In 2018, CCBF opened a magnificent new chapter by collaborating with Bologna Children's Book Fair (BCBF) organised by BolognaFiere. With a history of over 50 years, the BCBF is the largest children's literature fair in the world. This exciting cooperation will better serve the current strategy of China's publishing industry–disseminating original content worldwide and bringing the best international books to local readers–also known as the "go global, bring in" policy.
CCBF 2019 will take place during 15-17 November on the ground floor of the Shanghai World Expo Exhibition and Convention Centre (SWEECC). The fair will be extended to 25,000 square metres with the expectation of more than 400 domestic and international exhibitors.
In 2018, CCBF successfully brought together 367 exhibitors from 25 countries and territories, as well as 33,796 visitors from many professional backgrounds including publishers, literary agents, authors, illustrators, translators, graphic designers, content developers, packagers, printers, distributors, booksellers, mobile developers, licensors and licensees, education and training institutions, cultural institutions, librarians, professional medias, teachers and children's book lovers.
Other than the exhibition itself, the fair offers a wide range of activities. Some of the notable activities are a series of Conferences & Seminars, the Golden Pinwheel Young Illustrators Competition, the Illustrators Survival Corner, the Chen Bochui International Children's Literature Award, the Authors Festival, the Shanghai Visiting International Publishers Programme (SHVIP) and other events to promote reading.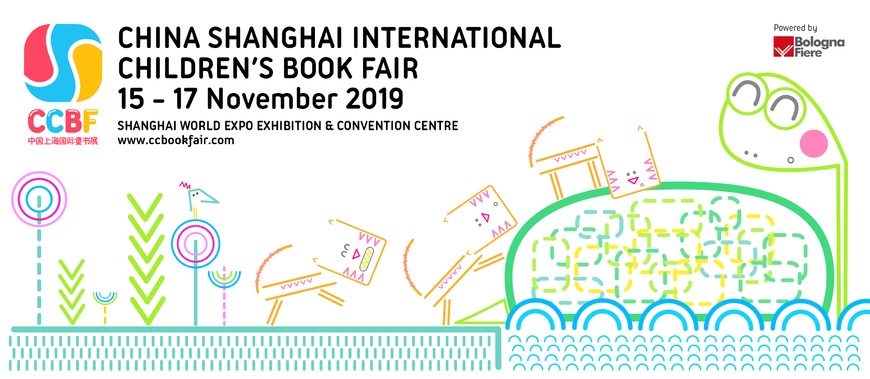 Every year, CCBF undergoes a visual makeover in order to bring freshness and novelty to its image. This customary revamp is the much expected result of a creative collaboration involving a children's book illustrator selected among the winners of the previous Golden Pinwheel Young Illustrator Competition.
Spanish illustrator Raquel Bonita, who won a Special Mention in the 2018 edition of the competition, was selected as author of the CCBF key visual. For a whole year, her minimalistic yet playful graphic universe will offer a lively visual experience for children and adults alike.
Composed of simple geometrical elements, Raquel Bonita's animal characters contain infinite levels of visual interpretation. Through a gentle combination of lines, curves, circles and arcs, we are taken back to remember the importance of plain strokes as source of all shapes, colours and expressions.
Conceived with the support of Milan-based design studio Boiler, this new visual identity materialises the combination of shapes and essence, forms and ideas.