Ivan Canu is one of the five international illustrators experts invited by CCBF to be part of the Golden Pinwheel Young Illustrators Competition Judging panel. Let's hear more about him in this interview he answered for us.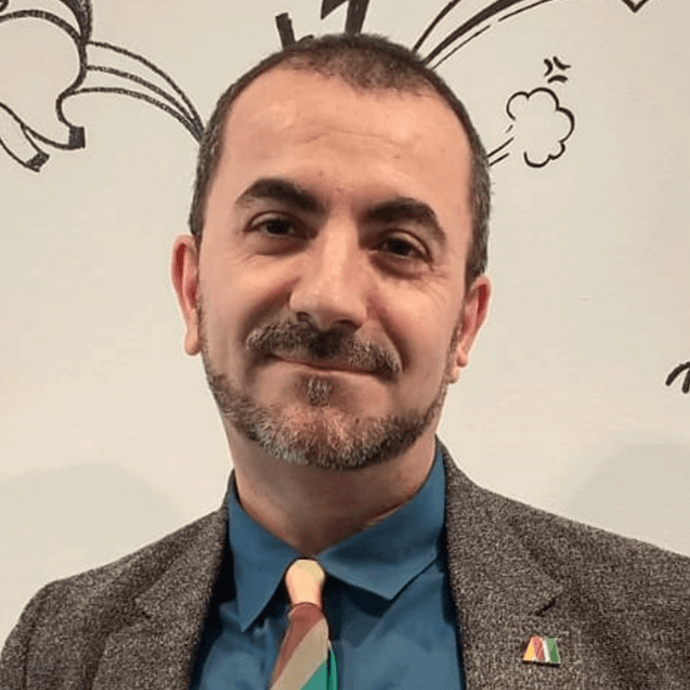 Ivan Canu (Italy)
Illustrator, Writer and Director of Mimaster Illustrazione
Ivan Canu was born in Alghero (Sardinia, Italy). He works in Milan as illustrator, critic and writer. Previously he served as a graphic designer for the International Balzan Foundation and the magazine Hystrio. He has written children's books in Italy, France, Japan, China and Korea. As a critic, he collaborates with La Repubblica, Corraini Edizioni and Salani Editore. In 2009, he co-founded Mimaster Illustrazione in Milan, and is the curator of the Illustrators Survival Corner featured at the Bologna Children's Book Fair since 2017. Along with Giacomo Benelli, he has published The Illustrators Survival Guide (Corraini). Among his clients are numerous international and Italian newspapers including La Repubblica, La Stampa, The New York Times, The Boston Globe, Die Zeit and Courrier International. He also collaborates with Yahoo.com, De Agostini, Feltrinelliy Centauria. He was selected in projects of the Society of Illustrators New York, American Illustration, the Creative Quarterly, Communication Arts and 3x3. He is represented by Salzman International.
CCBF: What do you suggest to illustrators who attend a book fair for the first time to engage with publishers? What should they prepare and how should they organise their time? What kind of activities do you suggest them to focus on?
Ivan: As Lizbeth Zwerger says, "it is best not to show your portfolio at the fair!"
A first book fair need to be contemplative: you do not bring books or portfolio projects there, but you go for acculturation. It is an opportunity to have the catalogues of hundreds of international publishers deployed on the shelves. The pavilions are divided into quadrants and they are reviewed day by day, notes are taken on what we like and publishing contacts are collected. Then at home you work, plan and get in contact. Before the fair, here is a list of tips:
If you are sure about showing your work, carefully organise your portfolio. It must be modular so you can put in or off pages. Whether they're good or not good depends on the meetings you planned: not all images or projects are good for all publishers!

Show preliminary models and book projects ready, along and with their presentation sheet, which is the only thing we leave to the publisher

Bring business cards, with the images we show also in the portfolio and the contacts we want to leave (email and/or phone number)

A couple of months before, if you have a strong project, you can contact the publishers for an appointment by email.

The fair is full of professionals and visitors coming generally for business. If we want to know more about it, let's enjoy the event, the conferences, lectures, workshops, exhibitions in and out of the fair. It is best to talk with people when they are more relaxed: illustration is about communication and parties are the right place where we can do good meetings, without rush.

After the fair, let two weeks go by, there is a long post-fair hangover to get over, then let's get in touch again it by email, we send the proposed project in Pdf format and include the various things discussed during the interview, if we had one or more.
CCBF: You have recently been invited as a jury in the first edition of the Bambino Spettatore award in Bologna? How was the experience? What advice would you give to illustrators who want to succeed in illustration competitions?
Ivan: I'm not often taking part in juries, even if in my job as illustrator and as Mimaster director, I meet many jurors and talked a lot about methods of judgement. I think competitions are useful for the artists' career, but should not be considered too serious a thing. However, humour teaches us that if you want to make someone smile, you must use the best of your brain. So, paradoxically, competitions are something serious.
In general I have a rational and unemotional approach My idea is to find immediately the best and the worst works in the selection and create a parameter to apply in the middle, because "masterpiece" is a difficult category, like "genius" is a solitary word: we can't abuse of them. History shows us they arise once in a decade and we recognise them only if we keep our eyes wide opened. Generally all the competitions collect some bad works that are easy to rule out without scruples; there are also many good pieces but don't reach excellence; some are very good and, at last, a few excellent works that all the jurors will all acknowledge even if they don't meet each others. This is exactly what happened at the Bambino Spettatore Award*. Curiously, in that award [which is about illustration and performing arts for children], I found many illustrations depicting circus or dance scenes; it made me think the illustrators knew these arts more than they probably do in real life. How many circuses can we find now in our life or how many dance performances do we really get to watch live? I consider both a boring cliché, like the old phone represented in books, even if those disappeared long ago. Something in the illustrator's mind is conservative and banal, and those banalities often appear in the competitions. As an illustrator, I propose myself to send only those pieces I believe are very good and uncompromising with what I am as artist, what I want people to recognise in me as real and honest.

CCBF: Can you describe the course given at Mimaster? (duration, structure, objectives, name of a few subjects, form of evaluation etc)
Ivan: Mimaster Illustrazione is an educational institution dedicated to the profession of illustrator for both traditional and new media. It combines the creative aspect of the job with the development of editorial and non-editorial products, in collaboration with international art directors, editors, publishers, agents, creatives, designers etc. It was founded in 2009 in Milan by a studio of illustrators. I am in charge of the management and creative direction, while Giacomo Benelli is teaching coordinator. The master is a six-month intensive course, running five days a week from 9 in the morning until 5 in the afternoon.
Our course is organised in thematic modules—Picture books for toddlers and children, Game and book-game design, Magazines for kids and children, Young adults and educational, Book Covers and design, Editorial (magazines and newspapers), Poster's design and typography. Each module lasts for about a month. They are composed by thematic workshops (no longer than 5 days) with international illustrators and a series of masterclasses/lectures with publishers, editors, art directors from recognised firms including Feltrinelli, Penguin Random House, The New York Times, The New Yorker, La Repubblica and many more. The module overcomes the limits of a single workshop and is enriched with professional contacts offered by the masterclasses as a new form of specialisation.
Mimaster Illustrazione dedicates a special attention to cover all the aspects of the market: this includes knowledge about how to organise meetings with lawyers specialising in international copyright and contracts, with agents and representatives, printers, book sellers and all others book and publishing professionals. After 10 years of activity, more than 500 professionals have taken part in Mimaster's programme and we have trained 200 students.
We have also developed a long-term partnership with the Bologna Children's Book Fair and from 2017 we organise the Illustrators Survival Corner, a space where illustrators can meet more than 120 authors, publishers, editors, professionals through a huge calendar of master classes, workshops and portfolio reviews.
A few months ago, we released The Illustrators Survival Guide, with texts by Giacomo Benelli and myself, and advice of internationally renowned figures such as Matt Dorfman, Emiliano Ponzi, Katsumi Komagata, Beatrice Alemagna etc. The book is conceived like a map to apprehend the sheer magnitude of illustration as a trade and a profession. It includes a wide range of topics, including covers, illustrated books, self-production, contracts and international meetings.
So all in all, Mimaster Illustrazione's proposal is giving answers to the illustrators' most common questions when they start as professionals—the "how do you do it?": how do the creative, design and market management areas work? how to make a cover? how to prepare a portfolio? how to contact an art director? how to use social media for self promotion?...

CCBF: Mimaster hosts students from many different countries and cultural backgrounds. How do those differences materialise in their life at Mimaster (if they do)?
Ivan: Mimaster has an international vocation, so we admit students from various countries in Europe, North and South America, as well as Asia. They share their cultures with the Italian students, which often results in great, unique opportunities to create friendships and collaborations, which last many years after the course has ended. Communication needs to be open, and in this regard illustrations can create more chances than words. Our students are involved in experimental groups for many activities; with their skills they contribute to extend each others' talents, sharing experiences, styles and looking towards affinities more than differences. We regularly talk about different markets, hosting international artists and professionals, because the job is quite the same everywhere, with similar problems, questions, but also with many different approaches to reach solutions. When we organised the Illustrators Survival Corner at the Shanghai Children's Book Fair in 2018, we found out that the Chinese and other Asian illustrators were asking the same questions we often hear from Western students—this is a sign of what this profession means everywhere. The curiosity of open minds is the key.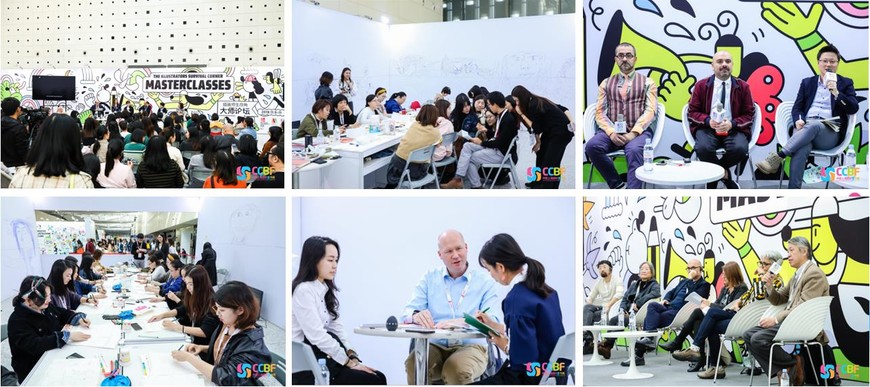 CCBF: Can you recommend one of your favourite children's books and tell us rapidly why you like it so much? Reason?
Ivan: I think of a date: 1963. And an incipit: "His mother called him WILD THING!" That year Maurice Sendak worked on Where the Wild Things Are. With this book, Sendak started a revolutionary discourse, which radically transformed the meaning of children's books and introduced drastic changes in their conception and execution. It brought them into a treacherous territory where the power of the image rules. Where the Wild Things Are is also a scandalous book, because it breaks up with the idea that children are pretty things: they are wild things.
* Editor's note: Bambino Spettatore (The Children Spectator) competition was launched in 2019 in Bologna within "Mapping", a four-year Eu initiative on Aesthetics of Performing Arts for Early Years aiming to link children's literature, illustration and performing arts.