Joan Fernández (Barcelona, 1978) is a Spanish graphic designer and illustrator, winner of the International Grand Prix in the Golden Pinwheel Young Illustrators Competition 2017. His winning series comes from a picture book published last year in Portugal (A Cidade dos Animais, Orfeu Negro, March 2017). After last CCBF, the rights for the book were sold to China, so it will be soon be available to Chinese readers.
We met Joan last week in his neighbourhood of Barcelona to talk about his work and what it is like to be an illustrator in Spain nowadays.
Joan, tell us who you are?
My name is Joan and I am from Barcelona, Spain. I have been working as a professional illustration for almost ten years, and for the last four years I focused more specifically on children's book illustration. I sign my books as Negrescolor.
In Catalonian, Negrescolor means something like "black colour". That's an odd pen name for someone who uses so many bright and warm colours in his artworks. How come?
It all refers to a saying from punk culture, which was very popular in Europe in the 80's: "In a grey world, black is a colour". In physics, black is defined as a no-colour, it is an absence of colours. When I was a teenager, I liked dark music and I often wore black clothes. My penname is a memory from that time. Besides, I like playing with contradictions, I like when there is contrast of ideas, colours and concepts!
How did you start in the field of illustration and did you make it to where you are now?
I've always liked designing, painting and drawing. I did my first illustration jobs when I was still an illustration student at the Massana School, I was designing T-shirts and also doing all kind of jobs for a local cultural collective. At some point, I got tired of that and I decided to go serious with illustration. That was in 2008 and, back then, the Internet and social networks were less developed than today. So I started promoting my work very locally and undertook my first formal jobs illustrating material for cultural and social centres here in Barcelona and making posters for music shows. My situation was very unstable and unsecure but this is how I could become progressively more professional. It meant to learn about the legal aspects of the job, to know the tricks about how to promote yourself, to know how to make invoices and pay my taxes! It takes some time to become more professional but hard work and perseverance always bring a reward! It is a process in which one has to be patient and be able to overcome failure, but good projects always come in the end!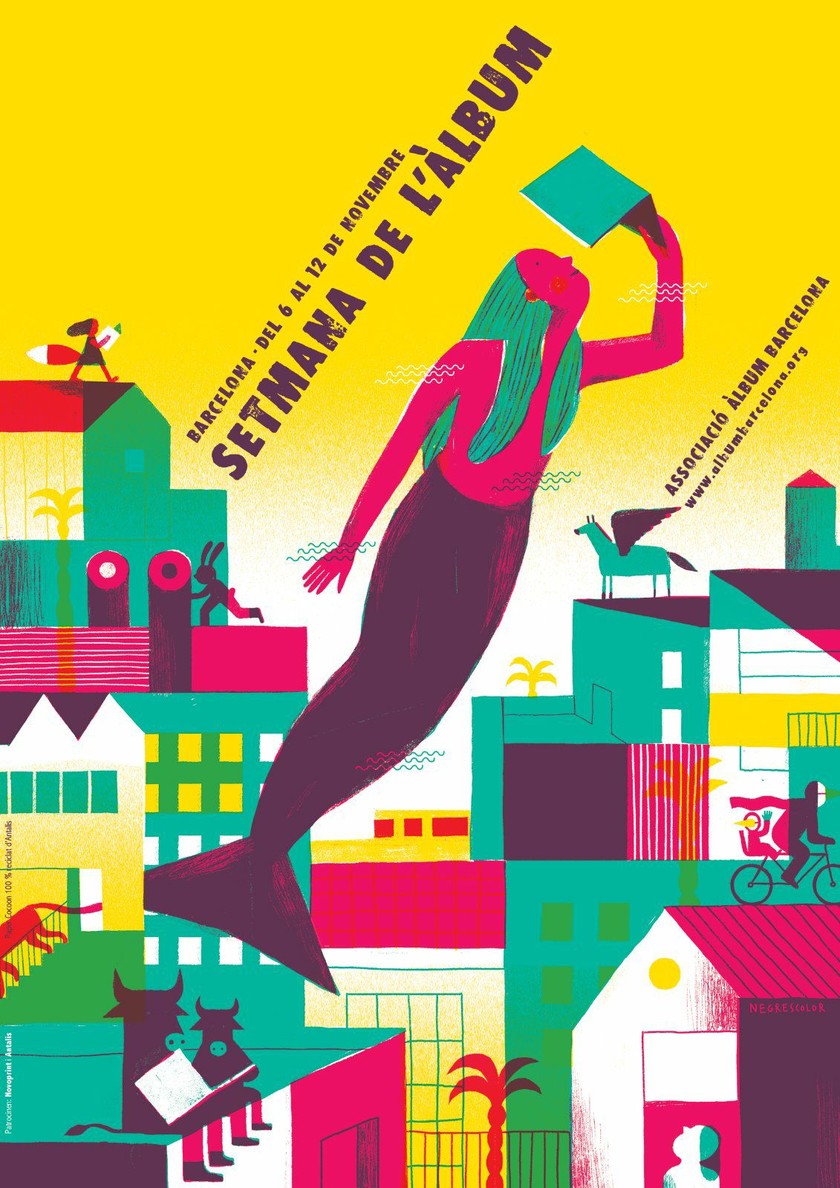 So how did you decide to focus on children's illustration?
My first works were for advertisement, corporate illustration, newspapers… I had always been interested in children's illustration but I didn't have a chance to give it a real go. Moreover, I was often said my style wasn't too adapted for children, that my style was too hard, too direct. I was working a lot and couldn't find the time to train myself into something new because I needed to earn a living! But one day, I decided to follow a specific six-months training in children's illustration at the EINA Design and Art Centre. And it proved a very useful course! Although I was already working: this is really where I learnt to conceive and develop a children's book project. I completed the course with several picture book ideas that I took to publishers in Bologna… and this is how the book of The City of Animals saw the light.
How do you like creating picture books for children?
Compared to other illustration fields like advertisement, picture book illustration gives you a lot of creative freedom and a lot of time. Even if it is not the best paid field, it is a very rewarding job because this is where you are recognised as an author and where your work is really valued for what it is!
It is really hard to make a living drawing picture books, especially here in Spain, but I can't really complain because my two first albums are getting a certain level of recognition. I won a Bologna Ragazzi Award in 2016 with a non-fiction picture book to explain social classes to children (Las Clases Sociales, Media Vaca, Spain) and now The City of Animals has won the Golden Pinwheel Grand Prix!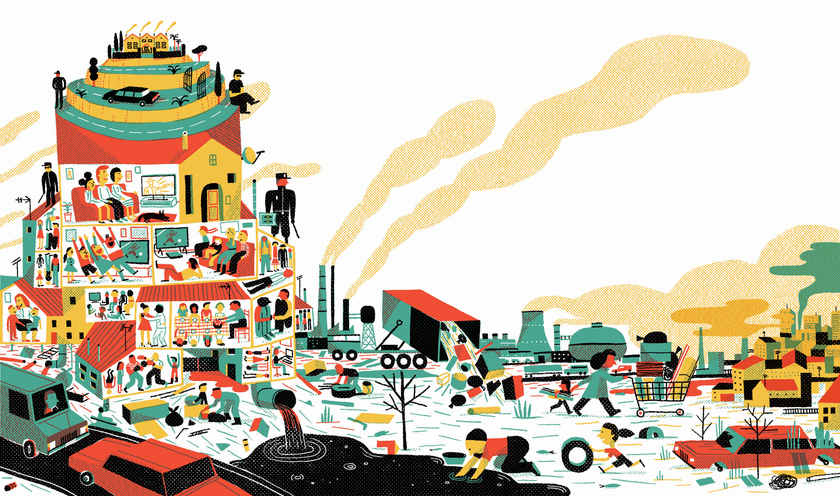 How about your technique? Most of your work is created digitally but you claim you are nostalgic of analogical art forms. Tell us about all this.
For practical reasons, working digitally is very convenient, it makes retouching quick and easy and, for people like me who sometimes lack the patience to do and re-do the same sketch 5 or 6 times, it is huge gain of time to use Photoshop to finish up a drawing. That said, the basis of my work is still very manual. I draw on the screen exactly the same way I would draw on a piece of paper and I like the imperfect finish you get when you use traditional tools like water colours and pencils. I like to reproduce these manual imperfections digitally, that's one of the characteristics of my style.
To conclude on this matter, I think the masters of analogical art still have a bright future ahead! Although a growing number of illustrators insert digital elements in their artworks, there seem to be a trend where one likes to show how much manual work there is behind the creative process. We might be going back to something more manual, gradually…
Let's talk about your book, The City of Animals: you are Spanish but you published the book with a Portuguese publishing house. Why is that?
To tell you the truth, it was a question a feeling! Three publishing houses from three different countries were interested in publishing this project and I had to make a choice. When I showed it around, it was still a rough project that needed to be developed and polished. The editorial team at Orfeu Negro showed great sympathy towards the story in the book and I knew from the beginning that they would do everything they can to help me develop the idea, make a good book and promote it around in international fairs and competitions. So I didn't go for the best economic offer, I just followed my feeling that they would take good care of me and my book… and it worked! The books' rights have been sold in four languages including English (Chronicle Books), French (Helium) and it will soon be published in China too!
The City of Animals is not the first art project you create about the concept of city. You drew wild cities, .invisible cities… What makes you like it so much?
I am a real city-dweller, I love the urban lifestyle, I love my city Barcelona and I have always tried to be involved in the local life here. I don't have a university degree but I've read a lot about urban studies, about sociology and architecture (especially about constructivism). Also, I have always been very sensitive to housing problems and I believe in everybody's right to have a home. The city is a great space for the people to relate and socialise, that's why it is very interesting to me. And I love drawing buildings and urban structures… That said, as much as I like the city, I am always happy to leave it behind me and go to the country or go running in the mountains.
I have the feeling that I am done exploring the city as an art concept. Lately, I have been thinking a lot about animals. Like in old tales or in Geoge Orwell's books, I think animals are a great way to represent our society and human relationships. They are the perfect characters for those dystopian and utopian worlds I find very interesting to explore.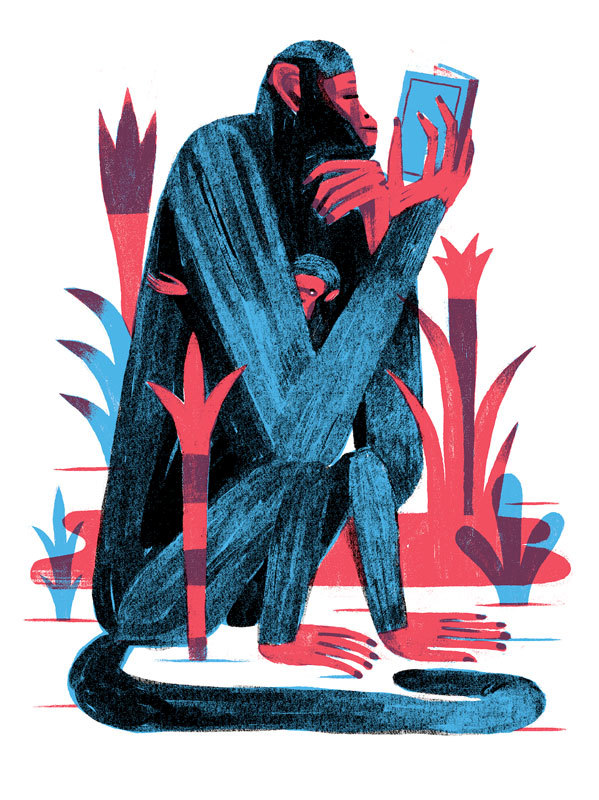 The City of Animals tells a story about a little girl, Nina, who knows the way to a secret city inhabited only by animals and plants. She befriends the animals and goes to read them stories…. Tell us about the role of books and reading in your life.
Now that I have a child, I unfortunately don't have much time to read for myself. But I read a lot with my son. Reading is a very important from a very young age, as books are here to make you discover new knowledge, discover the magic of language, of poetry and even philosophy!
I believe that if parents read, then their children will be good readers too. Reading is one of those important habits that unite parents and children. I am not a great specialist in children's literature but, for me, the best children's books are those which parents and children alike will enjoy and feel connected to. I think that, sometimes, when you find a children's book that you really like as a parent, children can feel your interest for it and will learn to love the book too! It does work the other way around: I was sometimes seduced by books that I didn't really liked until I saw how much my son was enjoying it! Also, I like when books have several levels of readings that can please both children and adults. In The City of Animals for example, there is a simple story for children that adults can also read as a critic to our modern world, like a dystopian social fable.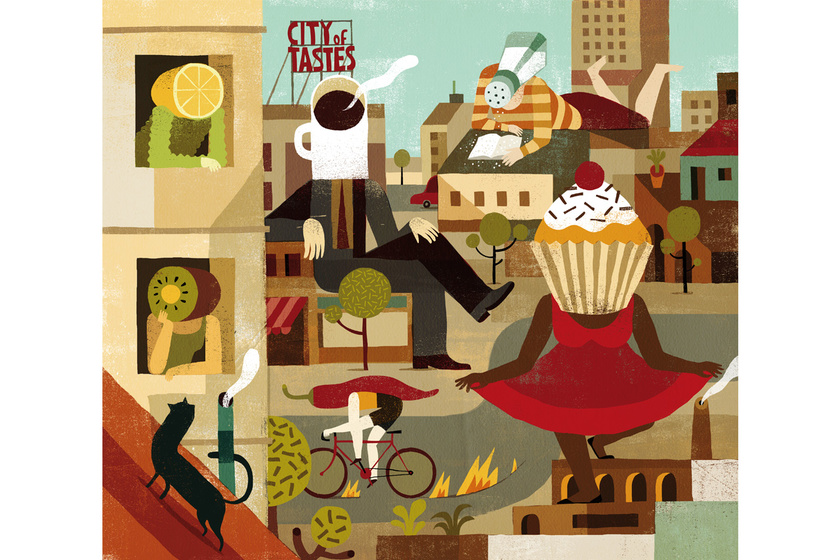 Last but not least, how did you learn about the Golden Pinwheel Young Illustrator Competition?
I heard about it through my publishing house in Portugal. They did a good job in writing to all of us and forwarded us the regulations.
Joan's illustrations have recently been selected for the 2018 Bologna Illustrators Exhibition. For those who have the chance to attend Bologna Children's Book Fair, he will be presenting his book on his publisher's booth (Pad.2s stand B/53)
*Interview by the CCBF Organising Committee, March 2018